June 2014

We approached Bupa who was the current owner of the Camellia Grove site in St Ives, knowing these camellias have had a long history in the area and were in great need of care. We offered to save as many as we could, with the understanding that when they finish their project we would re-plant back twenty. We were able to save approximately ninety

September 2014
We are given the go ahead, not an ideal time as camellias are about to throw their new growth, but demolition of site was going to happen in December so it was now or never. We needed a large excavator to dig these out, so we cut down each side & then under with the bucket, before hand cutting the camellia back to approx. 1.5mtrs high. In some cases there wasn't a leaf left on the bush. Once lifted out of the ground, we trimmed the root system into a manageable size as we will plant these into grow bags. We transported these bare rooted back to our nursery in Glenorie & proceeded to plant into 750 litre bags, 30 cubic mtrs of high grade camellia soil mix was used & we housed these under a shade house structure.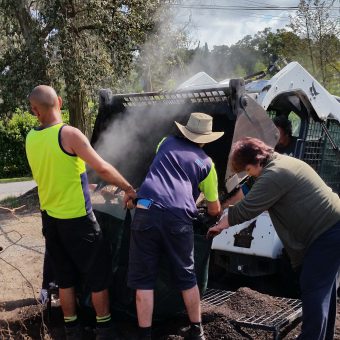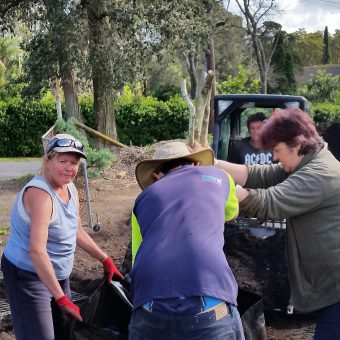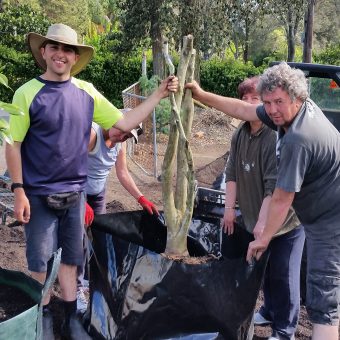 October – December 2014
We started with a fortnightly watering of Maxicrop root hormone solution, there were no signs of growth for months, late December we were looking closely at the stems and to our amazement there were little growth eyes coming from the stems a great relief.
January 2015
We applied a half a bag of composted cow manure around each, then applied some slow release fertilizer.
February – June 2015
Growth happening all over, dark green new growth no signs of mite or scale.
June – September 2015
All nice growth and very little flower as expected.
October – December 2015
We re-locate out of the shade house into a more sun & light position, so as to promote more growth.
January 2016
We have some fantastic growth & are able to propagate from this approx. 10,000 cuttings.
May 2016
Looking very well with plenty of flower buds & occasional flower.
January 2017
Very hot weather Propagated approx. 15000 cuttings
February 2017
Very hot some burn on foliage
March 2017
Nice rain after a mulch of cow manure , foliage shining dark green
April 2017
very good results with propagation
June 2017
After a very hot summer, conditions very dry , we are on the verge to having a great season of flower with our Japonicas